Energy Management
Accutronic Security Systems can help you save energy and money through automated energy management solutions for your home or business. Our managed services for business provide the best combination in energy savings, automation and monitoring to keep your business running seamlessly and effectively. You'll also be alerted to small problems before they become big ones with central monitoring of your appliance's health.
Commercial Energy Management Solutions
Commercial energy management is important, whether you are a small business or a large scale enterprise. Automating your lights, appliances, refrigeration and HVAC system has multiple cost saving benefits for your business. Not only will you save money directly by not consuming as much electricity (even an extra 2-5 minutes a day adds up quickly), you'll also extend the lifespan and health of your appliances and HVAC system and be alerted to potential problems that could prevent a major breakdown. What's even better than saving time and money? You can access your systems remotely to make changes from anywhere you have an internet connection.
Benefits of Using
15%
Savings on Energy
5%
Less Emergency Maintenance
2yr
Extended Equipment Life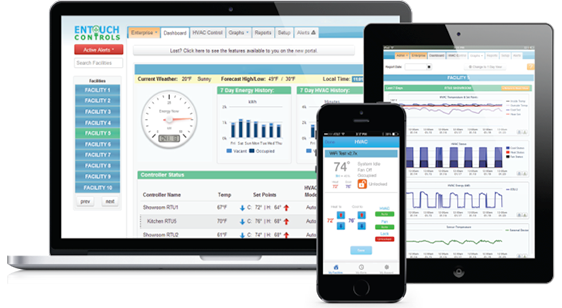 EnTouchGo is available on the App Store
EnTouchGo Cloud Service
Cloud-Based Facility Management
Remotely Control Set Points and Schedules
Track Temperatures, Runtime and Energy
Set Up Automatic Alerting
Add Users and Set Permissions
Optional Cellular Data Services
Examples of Commercial Energy Management
Here are some examples:
Custom energy management solutions can automatically monitor your commercial refrigeration or ovens to make sure they are at the right temperature and working properly
Monitor the airflow and performance of your HVAC system, detecting clogs or airflow problems before they overtax your system or potentially cause a fire hazard
Automation can turn on or off the lights at set times of the day or night (which is great since sunrise and sunset times change daily)
Turn on appliances at set times to get ovens warming up and other equipment ready to go
Set your thermostat to automatically turn on before the start of the days operations so your facility is always at a comfortable temperature. Set it to shift to a reasonable temperature during your closed hours
Access your energy management features remotely to make changes from anywhere you have an internet connection.
Residential Energy Management
Honeywell's Lyric thermostat helps you save money without sacrificing your comfort. How? By helping you reduce your home's energy use whenever possible like when you're sleeping or when you're gone. So you get comfort when you're home and savings when you're away.
The Lyric thermostat is changing the way you think about comfort. Leaving the house? Enable geofencing, and it will automatically adjust based on your smartphone's location. Or, tap the Away button on your thermostat to set the temperature back while you're gone. The result? Comfort when you're home and savings when you're away.
Tailor your comfort to any situation, at the touch of a button. Create unique shortcuts for unique situations, or, save the shortcuts you really like and they'll be available on your app any time you want. Customizable comfort has never been so simple.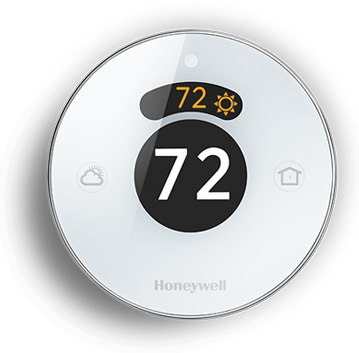 It All Adds Up
Seemingly little things like these add up to tremendous cost savings over time. Accutronic's energy management solutions help keep your business comfortable, saves resources, time, money and extends the life of your appliances and HVAC system, without you ever thinking about it. Your patrons, appliances and your business manager will thank you.